To travel extensively and visit the major tourist attractions in Haryana or in other parts of the country, you don't need to rent a car and drive hours on end: the public transport companies in the different states such as Haryana Roadways, offer affordable, comfortable and efficient transportation, wherever you want to get. India being famous for its excellent bus services, there is no destination you cannot reach by bus.
The Routes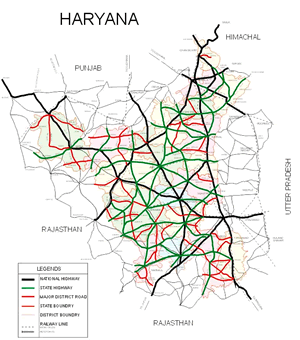 In India, you can get anywhere by bus. With Haryana Roadways, you can choose from among 6 different routes and 25 services a day. The routes of Haryana Roadwayshave been designed so as to allow the traveler to reach the most interesting places easily – departure points and destinations include Delhi, Ludhiana, Jalandhar and Amritsar.
If you want to travel to other destinations, you can choose from routes operated by other similar transport companies – each state has its own bus service, with varied routes and modern transportation vehicles.
Service Quality
When it comes to long-distance bus travel in India, efficiency is paired with quality. Haryana Roadways operates modern buses that offer the passengers the highest level of comfort and safety. The Volvo buses used on the routes provide several different choices to the traveler: you can choose from among AC Seater, non-AC Seater, AC-Sleeper and non-AC-sleeper seats.
Other bus booking companies like Karnataka State Road Transport Corporation (KSRTC) or Andhra Pradesh State Road Transport Corporation (APSRTC) offer similar service, of the same high quality, with routes to other important tourist destinations.
How to Book Your Trip
Using online booking is the easiest way to obtain a ticket for a trip in India. Haryana Roadways is certainly one of the best public bus companies that offer bus booking services. When you book your trip on their site, the procedure is really easy and self-explanatory – you fill in a few details of the required service and with a few additional clicks you can get your ticket in seconds.
One of the other websites that provide such services is the KSRTC online booking site. Ticket booking has never been easier than here: all you need to do is select the departure, the destination and the dates when you want to leave and return. The site will display the possible options, not only in terms of departure and arrival times, but also in terms of the available seats and fares as well. You can use the site not only for individual booking – you can rent a complete bus as well, so the company's services are very useful not only if you are an individual holiday maker, but also if you are a tour operator or you want to organize a trip for the guests to an event of great importance in your life such as your wedding. The website offers detailed and accurate information about the vehicles they use as well – you can see a gallery of pictures with the comfortable, modern buses of the company.
Another site where you can get tickets is the website of the Andhra Pradesh State Road Transport Corporation, offering APSRTC online booking. The ticket booking procedure is easy and comfortable on this site as well and additional features include tickets sent to mobile phones, acceptance of all credit cards, debit cards and internet payment methods, 24/7 support and free online cancellation.
Holistic Travel Sites
India is huge and the number of the must-see places in the country is infinite. With the help of state-owned bus services like Haryana Roadways you can easily book short and long-distance tickets, but if you want to travel extensively, you can holistic travel sites to organize your entire trip easily, even if the journey involves crossing several states. Most of these sites will offer information about the hotels available in the area you are planning to visit as well as the option to book your hotel rooms in an easy and comfortable way, similar to the method you used when booking your bus tickets.
Traveling by bus across India is certainly the best and most comfortable way to explore this wonderful country. Whether you choose Haryana Roadways, APSRTC, KSRTC or other bus services, your experience will surely be the best, making your trip the most memorable journey of your life.